Poetry Publications
Unpacking published in One by Jacar Press
Rose, Sweet Relief, 1919 Race Riots, The Dinner Party & Healing published by Poetry Wales, Spring 2020 Issue
Sister published by Black Bough
Letters published by Re-side Zine 
Confetti published by Butcher's Dog Magazine (Issue 9)
Thanksgiving published by Parthian Books (Cheval 12)
In Bloom published by Lucent Dreaming
Welcome & Sabrina published by Broken Sleep Books
(forthcoming 2021)
Womanhood published by Brenda Magazine
Faith published by Paper & Ink Zine
Fasting published by The Cardiff Review
Blues published by Ink, Sweat & Tears (Shortlisted for Pick of the Month)
For Love published by I Am Not a Silent Poet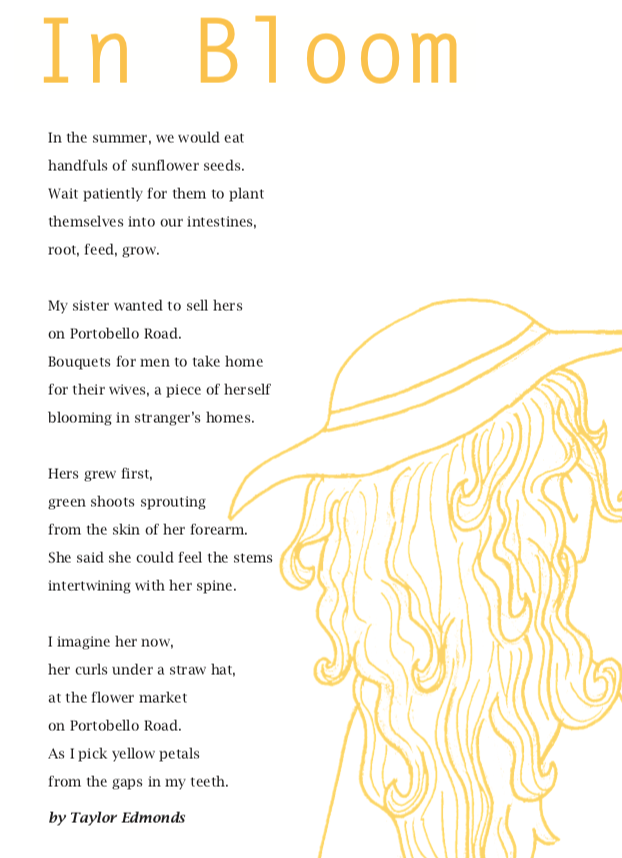 Projects and Awards
This Is Wales – Panel member & Ambassador Arts Council of Wales / Edinburgh Fringe 2019
I was chosen to sit as an external panel member for the Arts Council of Wales to advise and curate their Welsh showcase for the 2019 Edinburgh Fringe Festival. This involved going through applications, discussing and advising with the board and creating their 'Seeding For the Future' initiative. I also attended Fringe as an ambassador for the programme.
Call of the Severn – Audio StoryThe Severn Estuary Partnership
Call of the Severn, co-written with Lucy Smith for the Severn Estuary Partnership, is an immersive audio story that explores the magic of the Severn Estuary. Call of the Severn was created as part of a project that aims to connect coastal socio-economically deprived communities to the Estuary and promote wellbeing. The project involved research, running community sessions in Grangetown, Barry and Newport, as well as writing and recording the story.
Nescio Ensemble Welsh Tour – Spoken Word performer I joined Nescio Ensemble, a classical string orchestra from the Netherlands on their week- long Welsh tour as a spoken word performer. We spent time creating a set which merged my words and their music together and played a series of gigs over Wales. The tour aimed to make classical music accessible and push the boundaries of our genres through collaboration.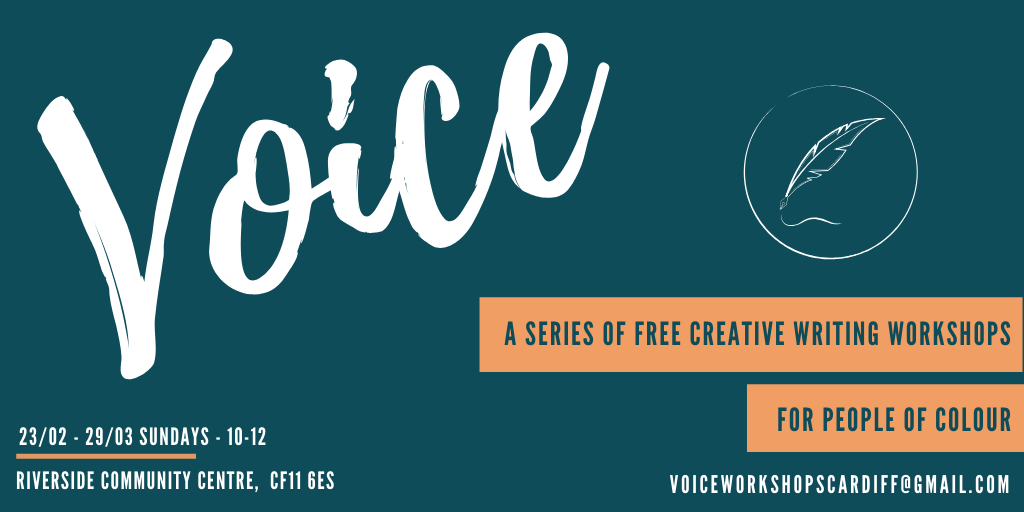 'Voice' was a series of community creative writing workshops I co-delivered with Nasia Sarwar-Skuse. The workshops were for people of colour, exploring and developing the creative voice of participants through learning and participation, as well as studying the works of writers of colour. The workshops were supported by Literature Wales' Platforming Underrepresented Writers Scheme.
Rising Stars Award 2020 – Literature Wales
I was one of three awarded a Rising Stars 2020 award by Literature Wales and Firefly Press, a scheme open to BAME poets writing for children. As a recipient of the award, I received a cash prize, the opportunity to shadow the Children's Laureate of Wales at a school workshop session and publication.
Hunan-Iaith – Contributor Where I'm Coming from & Y Stamp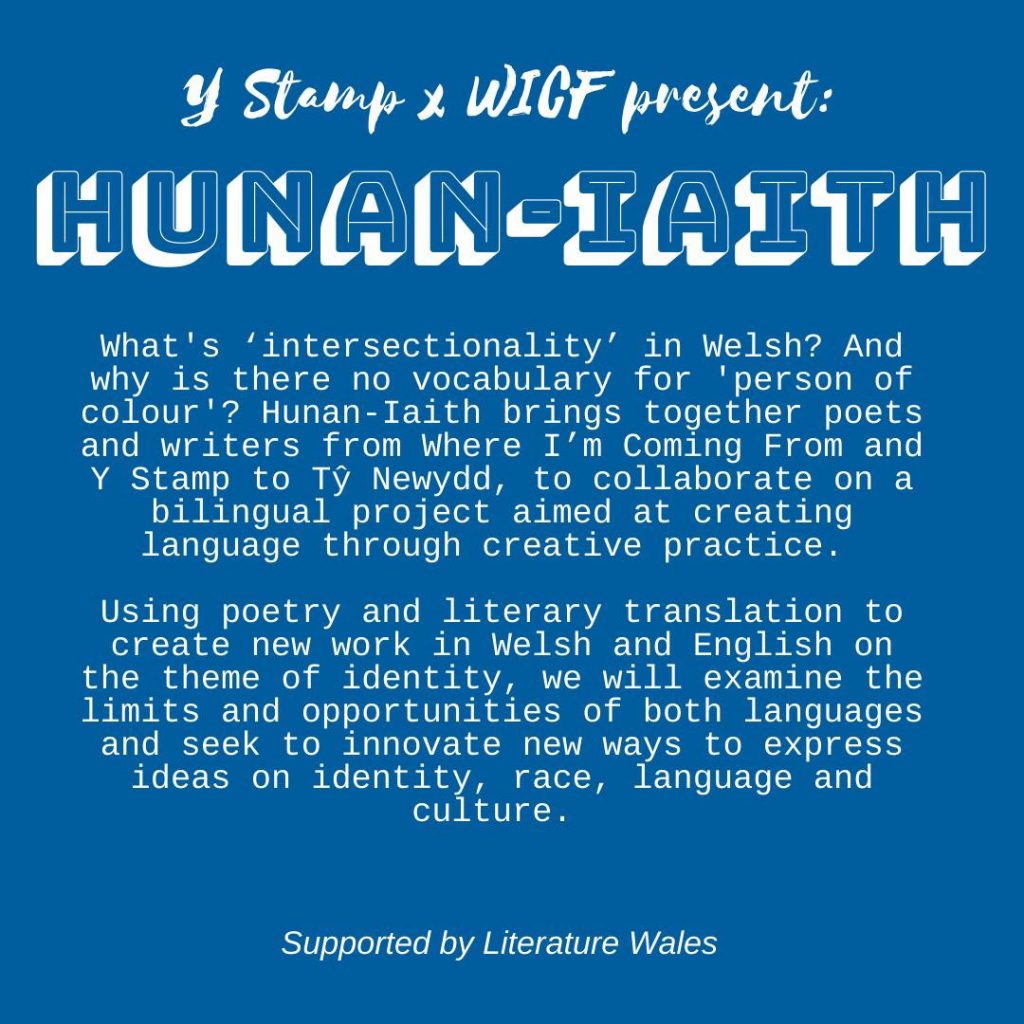 Hunan-Iaith is a bilingual project between Where I'm Coming From & Y Stamp that aims to bridge the gap between language and translation in our communities. As well as facilitating and curating the project as a Where I'm Coming From team member, I will also be contributing and translating work. The project received funding from the Arts Council of Wales to develop a pamphlet, glossary of terms created throughout the project and unconscious bias and anti-racism training for Welsh organisations.
Articles, Reviews and Other Publications
Finding Voice, essay in Just So You Know, published by Parthian Books
How I'm Connecting with My Welsh Identity in my Twenties, published by Black Ballad
Chance Encounters published by Wales Arts Review
Poetic Voice published by Wales Arts Review
Decolonising the Arts: Gentle/Radical 4 published by Wales Arts Review
2023 review
Bottom (Willy Hudson) review
Live – Hollie McNish review
Icons (Le Gateau Chocolat) review
Into the Light (Hijinx) review
Live – Hive City Legacy review