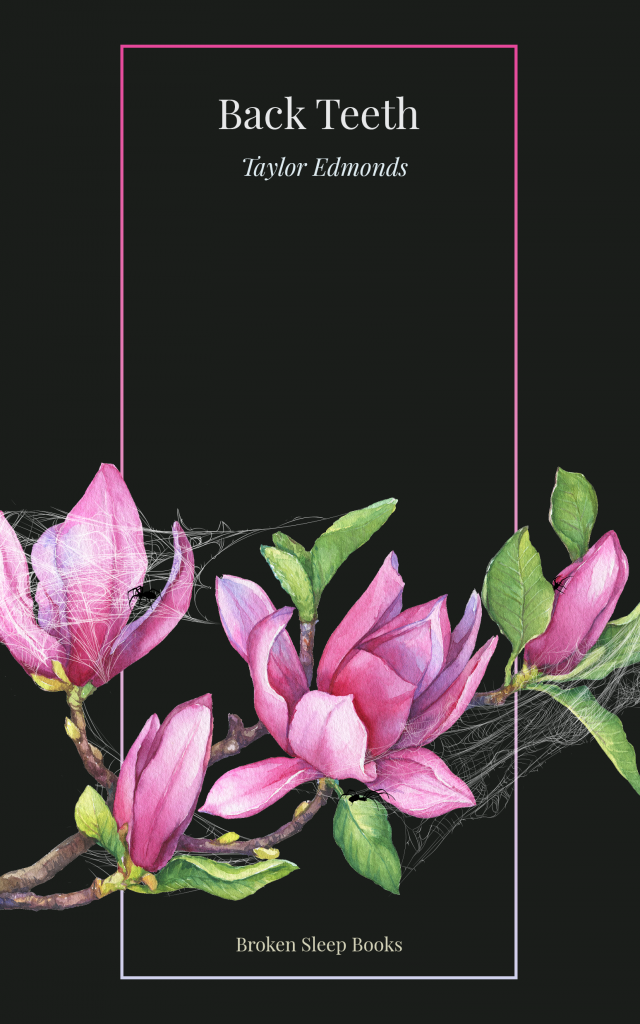 BACK TEETH
Published 30/09/22 with Broken Sleep Books, Back Teeth examines girlhood, the feminine body, and the dark place within that snarls and roars with veined gums. Edmonds uses these startling poems as vehicles for identity, nature, and womanhood, unearthing an enchanting and frightening landscape. Edmonds' bold, fierce poems give way to discovery through her sharp, vivid imagination. This is poetry that questions and challenges the world around it, pushing the limits of the known and creating new ground on which to walk.
PRAISE for Back Teeth:
This is an exquisite book which manages to find a truly unique and particular language for the experience of growing up and occupying the world as a woman. These poems are bold, dream like, heady and breathtaking. A stunning debut that will stay with whoever reads it for a long time.
— Cecilia Knapp, Little Boxes
Back Teeth is a gorgeously grotesque emergence from that deep, dark place inside every woman and girl. The book's unexpected twist on the often confusing transition from girl to womanhood is a welcome, fresh perspective. This bold debut collection will leave you breathless with a mouth full of bittersweet flavours."
— Hanan Issa, National Poet of Wales.
Back Teeth is available from Broken Sleep Books.
Poetry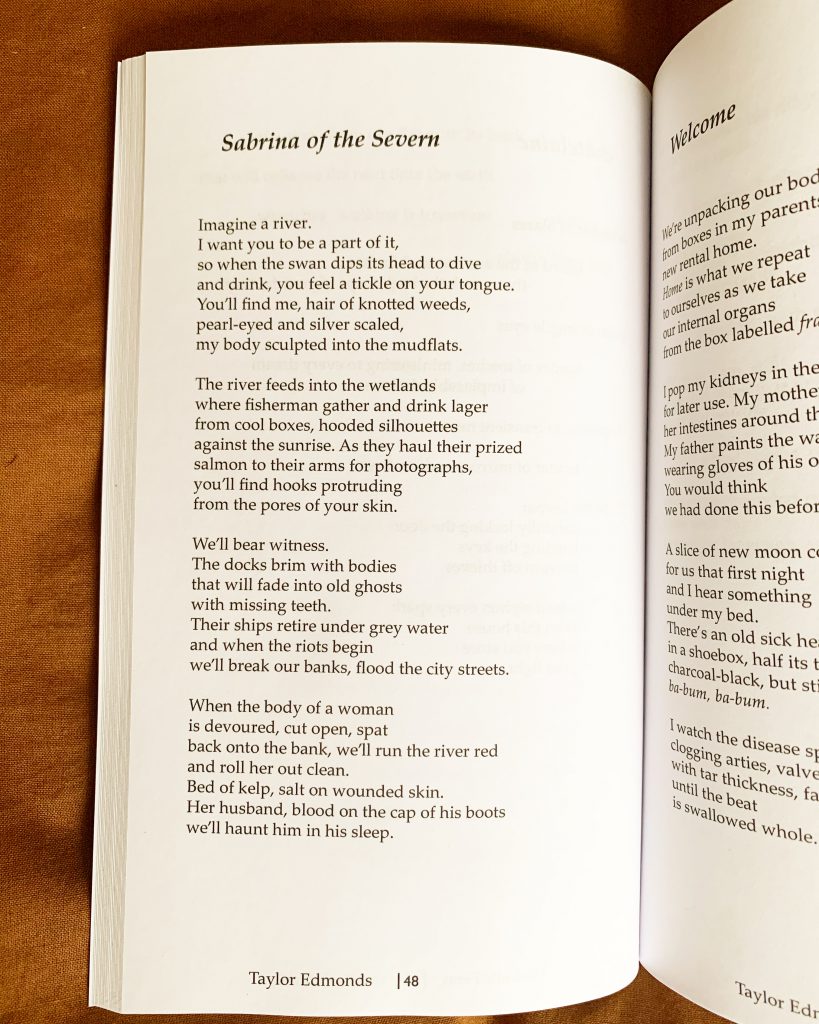 My Magnolia Tree published by Future Generations Cymru, commissioned for Everything Change (Taliesin Arts & Swansea University)
Spell for A New Beginning poetry film in collaboration with dancer Iestyn James as part of the Plethu/Weave project by Literature Wales x National Dance Company Wales.
When I Speak of Bravery commissioned for the unveiling of Betty Campbell's statue, the first statue of a named Welsh woman in Wales. Available to read on Wales Arts Review.
Sabrina of the Severn & Welcome published by Broken Sleep Books, Crossing Lines Anthology
Unpacking published in One by Jacar Press
Rose, Sweet Relief, 1919 Race Riots, The Dinner Party & Healing published by Poetry Wales, Spring 2020 Issue
Sister published by Black Bough
Letters published by Re-side Zine
Confetti published by Butcher's Dog Magazine (Issue 9)
Thanksgiving published by Parthian Books (Cheval 12)
In Bloom published by Lucent Dreaming
Faith published by Paper & Ink Zine
Fasting published by The Cardiff Review
Blues published by Ink, Sweat & Tears (Shortlisted for Pick of the Month)
Articles & Essays
Finding Voice, essay in Just So You Know, published by Parthian Books
How I'm Connecting with My Welsh Identity in my Twenties, published by Black Ballad
Chance Encounters published by Wales Arts Review
5 Black Womxn You Need to Know About in the South Wales Creative Scene, published by Black Ballad
In Conversation with Kima Otung, published by Black Ballad